Pentingnya Pola Asuh Anak terhadap Pencegahan Stunting Anak Usia Dini di Desa Mekar Mulia Kecamatan Tanah Jawa Kabupaten Simalungun
Alif Lailasari Saragih

Universitas Islam Negeri Sumatera Utara, Medan

Tommi Ardiansyah

Universitas Islam Negeri Sumatera Utara, Medan

Alfioni Saragi

Universitas Islam Negeri Sumatera Utara, Medan

Milla Rantika

Universitas Islam Negeri Sumatera Utara, Medan

Sriani Sriani

Universitas Islam Negeri Sumatera Utara, Medan
Kata kunci:
Stunting, Pola Asuh, Gizi Anak, Protein
Abstrak
Stunting can be said to be a problem related to malnutrition caused by insufficient protein and nutrition intake, where children will experience disturbances in development and growth, including their proper height. The research method used in this study is a qualitative method involving community service programs, namely students of the North Sumatra Islamic University Real Work Lecture (UIN-SU) Group 166 located in Mekar Mulia Village, Kec. Java Land, Kab. Simalungun, North Sumatra. In the process of collecting data, it is assisted by observations, interviews, socialization or counseling to the local community. The existence of supporting data such as reading sources from various references, books, and documents from previous studies that are closely related to this research. The results of this study prove that the stunting rate in Mekar Mulia Village, Kec. Java Land, Kab. Simalungun, North Sumatra is still classified as low and not many are exposed to stunting, but the community is expected, especially mothers who have children or toddlers to need sustainable stunting understanding and counseling.
Downloads
Download data is not yet available.
Referensi
Astika, T., Permatasari, E., & Suprriyatna, N (2020). Pengaruh Pola Asuh Pemberian Makan terhadap Kejadian Stunting pada Balita. 27, 3-10
Atica, (2020). Aspek Pola Asuh, Pola Makan, dan Pendapatan Keluarga pada kejadian stunting. Healthy Tadulako Journal (Jurnal Kesehatan Tadulako) : 1-72
Dedi Joko Hermawan, D. (2020). Pentingnya Pola Asuh Anak dalam Pebaikan Gizi Untuk Mencegah Stunting Sejak Dini. Jurnal Abdi Panca Marga, 1(1). https://ejournal.upm.ac.id/index.php/abdipancamarga
Nugroho, M. R., Sasongko, R. N., & Kristiawan, M. (2021). Faktor-faktor yang Mempengaruhi Kejadian Stunting pada Anak Usia Dini di Indonesia. Jurnal Obsesi : Jurnal Pendidikan Anak Usia Dini, 5(2). https://doi.org/10.31004/obsesi.v5i2.1169
Salsabila, A., Anit Fitriyan, D., Rahmiati, H., Sekar, M., Sarita Dewi, M., Syifa Uttami, N., Gonzales, R., Qamara Dewi, R., Valya Puspita Aryatri, R., Azzahra, V., Herdayati, M., (2021). Upaya Penurunan Stunting Melalui Peningkatan Pola Asuh Ibu. Jurnal Pengabdian Kesehatan Masyarakat: Pengmaskesmas, 1(2), 103–111.https://doi.org/10.31849/pengmaskesmas.v1i2/5739
Surya,S.,Nurdin,I,D.,Katili,O.,Ahmad,Z.F.(2019),. Faktor ibu, Pola asuh anak dan MPASI terhadap kejadian stunting di kabupaten Gorontalo. 3(2) 74-81.
Syamsiah Adha, A., Wahyuni Bahtiar, N., Anwar Ibrahim, I., Studi Kesehatan Masyarakat, P., & Islam Negeri Alauddin Makassar, U. (2021). Analisis Hubungan Pola Asuh Ibu Dengan Kejadian Stunting Pada Balita Di Kabupaten Jeneponto. In Public Health Nutrition Journal (Vol. 1, Issue 2).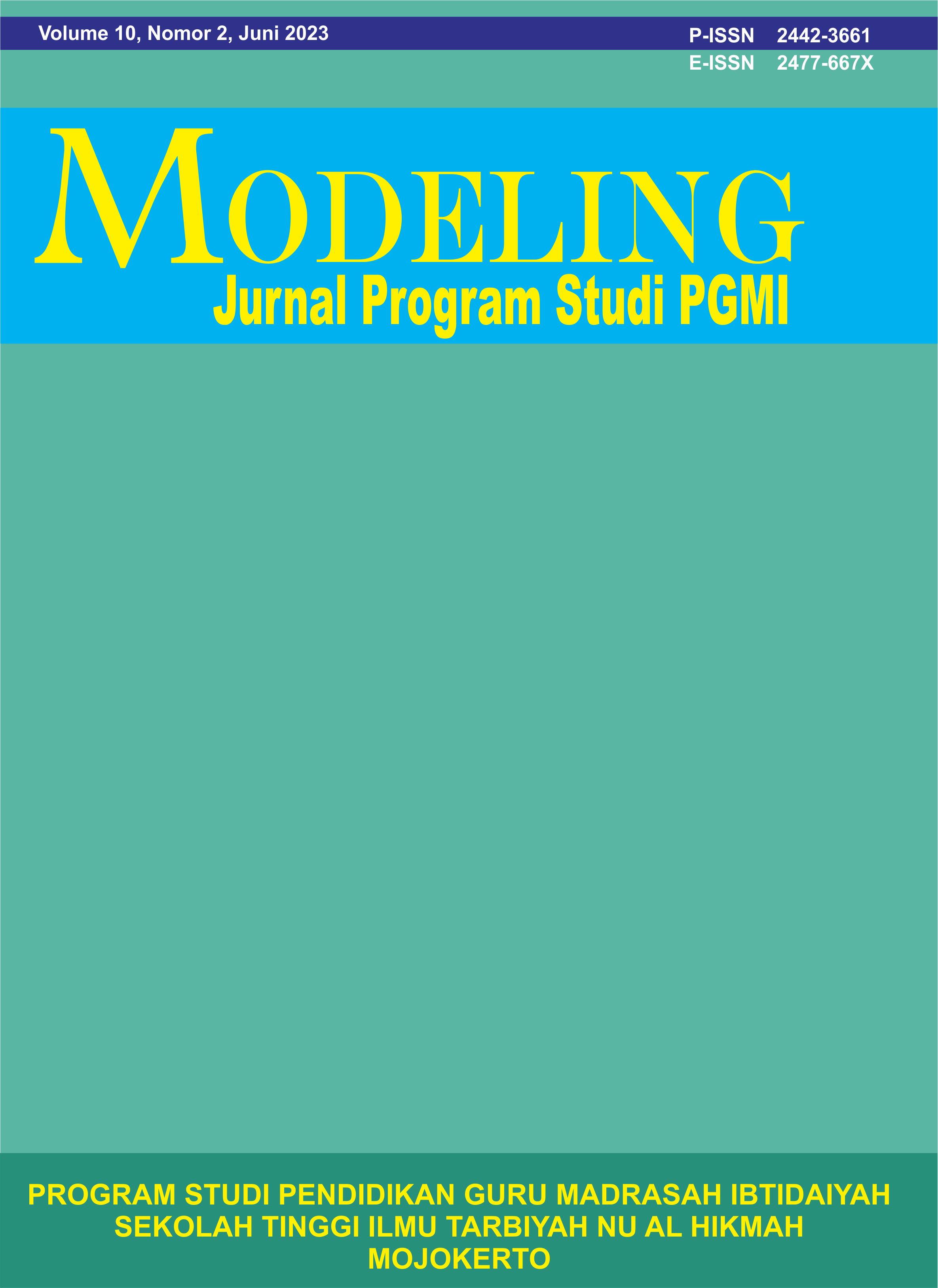 Bentuk Sitasi
Saragih, Alif, Tommi Ardiansyah, Alfioni Saragi, Milla Rantika, and Sriani Sriani. MODELING: Jurnal Program Studi PGMI 10, no. 2 (June 25, 2023): 10-18. Accessed October 4, 2023. https://jurnal.stitnualhikmah.ac.id/index.php/modeling/article/view/1281.
This work is licensed under a Creative Commons Attribution 4.0 International License.