Peran Mahasiswa KKN Kelompok 172 UINSU dalam Pemberantasan Buta Huruf di Kalangan Masyarakat (Studi Kasus Desa Binabo Julu, Kec. Barumun Baru, Kab. Padang Lawas)
Sahdin Hasibuan

Universitas Islam Negeri Sumatera Utara, Medan

Maya Dian Eka Sari

Universitas Islam Negeri Sumatera Utara, Medan

Siti Hamizah Harahap

Universitas Islam Negeri Sumatera Utara, Medan

Mei Sahriani Rambe

Universitas Islam Negeri Sumatera Utara, Medan

Serly Marpaung

Universitas Islam Negeri Sumatera Utara, Medan

Hamdi Maulana Hasibuan

Universitas Islam Negeri Sumatera Utara, Medan
Kata kunci:
Peran mahasiswa, pemberantasan buta huruf
Abstrak
Illiteracy is one of the conflicts experienced by some countries, according to information from the Ministry of Education and Culture (Kemendikbud, 2021) it is explained that the percentage of illiteracy in Indonesia in 2019 is 1.78% or approximately 3,081,136 people, and in 2020 reduced by about 1.71%, or about 2,961,060 people. Eradication of illiteracy in the Qur'an needs to be done from a young age, because children are the future generation. Children who can read the Qur'an can find out the content of the Qur'an will not have a bad influence on themselves and others. Al-Qur'an is not only a human input/advice when taking photos of it, but reading the Qur'an is also one of the motives for children's reading literacy. This study applies a literature learning approach to answer the research objectives. Literature created by combining the study of journal articles on themes that are in accordance with the objectives of the research, namely the Role of Students of Community Service 172 Uinsu in Eradicating Illiteracy (Case Study in Binabo Julu Village, Barumun Baru District, Padang Lawas District. Illiteracy also has the inability of the population in reading and writing. Illiterate humans will find it too difficult to imitate the improvements around them, therefore this illiteracy must be eliminated quickly to improve the lives of the population. In this case, the students of KKN group 172 want to develop their reading, writing, arithmetic and functional skills which develop the initial human capacity of a limited population. Binabo Julu Village Barumun Baru District, Padang Lawas Regency is able to develop active development and implementation of national formation. The results of this eradication are accepted using a program that has proven to be good or comparable to the first goal in the program was created Those are the children of Binabo Julu Village, Kec. Barumun Baru, Kab. Padang Lawas can read, count, and write. The solution given by the 172 Uinsu KKN students in eradicating Al-Qur'an illiteracy in Binabo Julu Village is the first in the family environment. Second, in the school environment, third, increasing preparation time for learning to read the Qur'an, fourth, improving the terms and conditions for learning to read and write the Qur'an, and fifth. Eradication of Al-Qur'an Illiteracy against the Community and Government.
Downloads
Download data is not yet available.
Referensi
Anwar, R. N. (2019). Motivasi Belajar Baca Tulis Al Quran Pada Ibu Rumah Tangga Di TPQ Anwarul Qulub Sidorejo. Prosiding Seminar Nasional & Call Paper Psikologi Pendidikan, (April), 162–166. Malang: Universitas Negeri Malang.
Anwar, R. N., & Yuliana, Y. (2021). PENDAMPINGAN PEMBERANTASAN BUTA HURUF AL QURAN PADA ANAK MELALUI METODE IQRA. JMM (Jurnal Masyarakat Mandiri), 5(5), 2556-2562.
Badriyyah, Y. (2019). Pengembangan Model Pembelajaran PAI Berbasis Ekstrakurikuler. Eduprof : Islamic Education Journal, 1(2), 93–107.
Badruzzaman. (2019). Strategi Pengentasan Buta Huruf Al-Qur'an di Kalangan Pelajar (Dari Regulasi, Menuju Aksi). LP2I IAI Bunga Bangsa Cirebon.
Bawani. dkk. 2014. Pengelolaan Program Keaksaraan Fungsional Untuk Memberantas Buta Aksara di Petissari, Babaksari, Dukun, Gresik: Gresik.
Djamarah, S. B. (2018). Psikologi Belajar (Edisi Revi). Rineka Cipta.
Firmansyah, W., & Hartati, Y. (2017). Pemberantasan Buta Aksara Berbasis Tutorial Terpadu bagi Masyarakat. Qardhul Hasan: Media Pengabdian kepada Masyarakat, 3(2), 146-152.
Hamalik, O. (2019). Proses Belajar Mengajar. Bumi Aksara.
Hamzah, A. (2020). Metode Penelitian Kepustakaan Library Research (Kajian Filosofis, Aplikasi, Proses, dan Hasil Penelitian). Literasi Nusantara.
Imansyah, F. (2019). Pemetaan Sebaran Data Buta Aksara dengan Sistem Informasi Geografis dan Database Engine. Jurnal Edukasi Dan Penelitian Informatika (JEPIN), 5(1).
Mariyono. (2016). Setrategi Pemberantasan Buta Aksara Melalui Penggunaan Teknik Metastasis Berbasis Keluarga. Jurnal Pancaran, 5(1), 55-66.
Quraisy, H., & Babo, R. (2015). Pemberdayaan Masyarakat Desa Yang Buta Huruf. Equilibrium: Jurnal Pendidikan, 3(2).
Sadiah, S., Maya, R., & Wahidin, U. (2018). Implementasi model pembelajaran dalam pemberantasan buta huruf Alquran di majelis taklim Nurul Hikmah Kampung Situ Uncal Desa Purwasari Kecamatan Dramaga Kabupaten Bogor. Prosa PAI: Prosiding Al Hidayah Pendidikan Agama Islam , 1 (1), 1-18.
Sartina, Dewi, Amir Rusdi, and Nurlaila Nurlaila. "Analisis Implementasi Kegiatan Pemberantasan Buta Aksara Al-Qur'an di Indonesia." Muaddib: Islamic Education Journal 3.2 (2020): 99-110.
Suparno, S., & Alfikar, G. (2019). IMPLEMENTASI UUD NKRI 1945 PASAL 31 AYAT 1 MELALUI PENGENTASAN BUTA AKSARA PROGRAM NASIONAL PEMBERDAYAAN MASYARAKAT GENERASI SEHAT DAN CERDAS (PNPM-GSC) TERHADAP PENINGKATAN KESADARAN PENDIDIKAN MASYARAKAT DIDESA TAWANG SARI KECAMATAN SEPAUK KABUPATEN SINTANG. JURNAL PEKAN: Jurnal Pendidikan Kewarganegaraan, 4(2), 159-167.
Suratno, H. P., & Ramdani, R. (2022). EFEKTIVITAS PROGRAM PENGENTASAN BUTA AKSARA OLEH DINAS PENDIDIKAN DAN KEBUDAYAAN KABUPATEN CILACAP. Martabe: Jurnal Pengabdian Kepada Masyarakat, 5(2), 733-745.
Wulan, R., Saputra, E., & Haries, A. (2018). Pengembangan Metode Cepat Membaca Huruf Hijaiyah Berbasis Multimedia Dalam Rangka Pemberantasan Buta Huruf Pada Lansia. Jurnal PkM Pengabdian Kepada Masyarakat, 1(01), 48-54
Yahya, Khaerul, et al. "Pemberantasan Buta Huruf Al-Qu'ran Masyarakat Bangunrejo melalui Metode Iqra." Prosiding Konferensi Pengabdian Masyarakat 1 (2019): 17-19.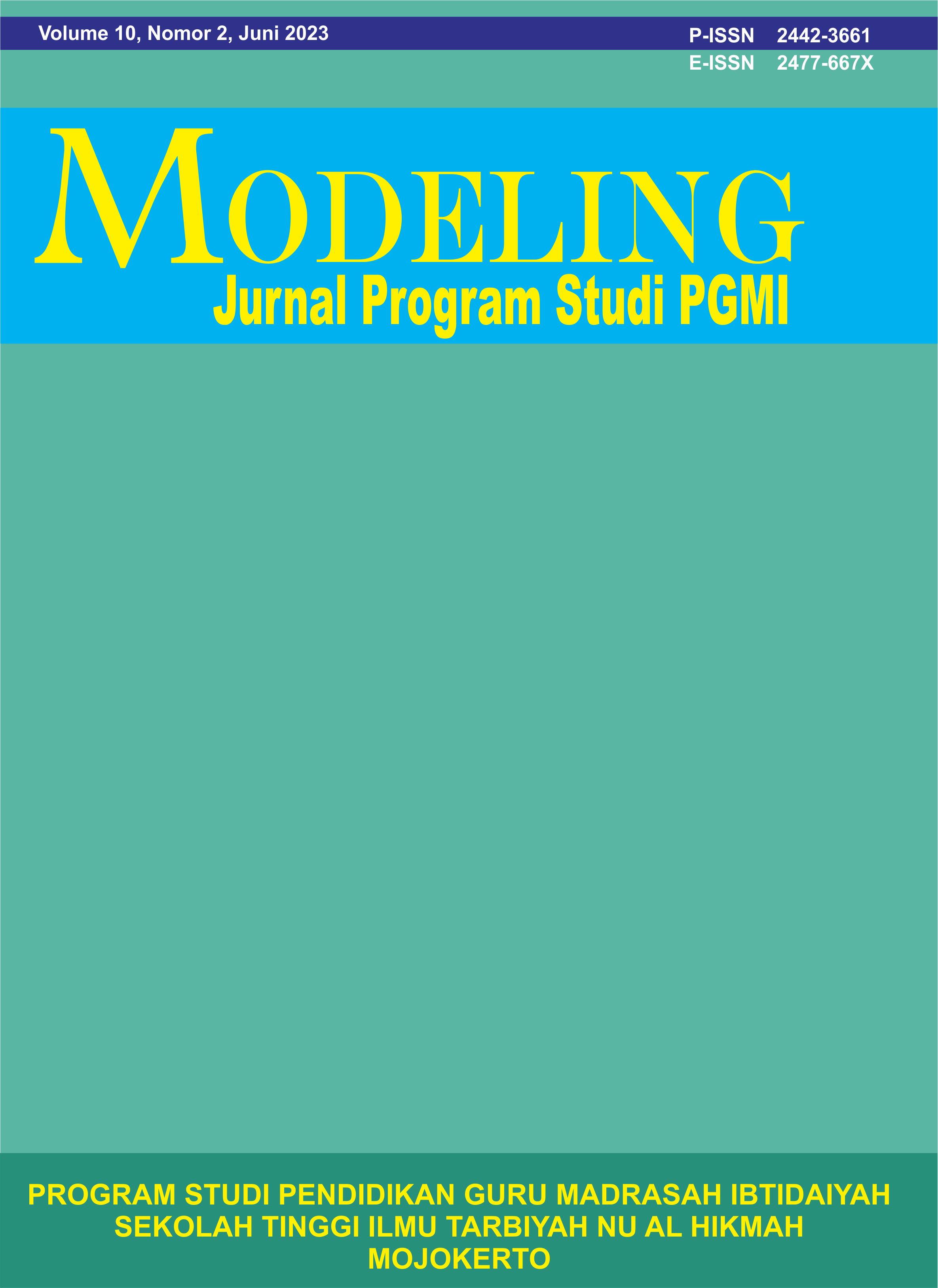 Bentuk Sitasi
Hasibuan, Sahdin, Maya Eka Sari, Siti Harahap, Mei Rambe, Serly Marpaung, and Hamdi Hasibuan. MODELING: Jurnal Program Studi PGMI 10, no. 2 (June 25, 2023): 19-32. Accessed October 4, 2023. https://jurnal.stitnualhikmah.ac.id/index.php/modeling/article/view/1282.
This work is licensed under a Creative Commons Attribution 4.0 International License.