Mengatasi Buta Huruf Al-Qur'an pada Orang Dewasa di Desa Dagang Kerawan dengan Menggunakan Metode Qirati
Deddy Irawan

Universitas Islam Negeri Sumatera Utara Medan

Ahmad Fadhlan

Universitas Islam Negeri Sumatera Utara Medan

Siti Nur Annisa

Universitas Islam Negeri Sumatera Utara Medan

Afiq Azizah

Universitas Islam Negeri Sumatera Utara Medan

Sakholid Nasution

Universitas Islam Negeri Sumatera Utara Medan
Kata kunci:
Overcoming, Illiteracy of the Qur`an in adults, Qirati method
Abstrak
The number of Muslim communities who are still illiterate in reading the Qur'an is a problem for a long time. This problem is not only found in children but also targets adults. This is what happened to the people of Dagang Kerawan village. Therefore, a program to overcome Al-Qur'an illiteracy was carried out in the Dagang Kerawan village community. This article aims to describe the program to overcome illiteracy in the Koran at the adult level in Dagang Kerawan village using the Qiroati learning method. This research uses a qualitative approach with the type of case study research; describe the phenomena as they are in the research location. Collecting data using observation, interviews, and documentation. The data analysis uses data reduction techniques, and drawing conclusions. The results of this study indicate that the use of the Qiroati learning method in overcoming illiteracy of the Qur'an in adults in Dagang Kerawan village is going quite well. Planning is poured in the form of a KKN program plan. Every adult is required to be able to meet the minimum completeness criteria (KKM) of learning. This program can help adults in Dagang Kerawan village be able to recognize letters and be able to read the Qur'an well even though there are many obstacles.
Downloads
Download data is not yet available.
Referensi
Acep Lim Abdurrahim, Pedoman Ilmu Tajwid Lengkap, (Bandung: CV Penerbit Diponegoro, 2007), Cet 10,5
Kementrian Agama. 2014. Al-Qur'an Hadist, Jakarta: Kementerian Agama
Nana Sudjana, Dasar-dasar Proses Belajar Mengajar, (Bandung: Argesindo 1995). Cet 3 h.39`
Nunung. (2020). Implementasi Metode Qiroati dalam Pembelajaran Membaca Al Qur'an di Taman Pendidikan Al-Qur'an Ta'allumil Qur'an Al-Mutazam Broni. Jambi: Skripsi. Program S1 Pendidikan Agama Islam Universitas Islam Negeri Sulthan Thaha Saifuddin.
Sanjaya, I. (2019). Pengaruh Metode Fun Learning pada Pembelajaran Gamolan Terhadap Hasil Belajar Peserta Didik SD 2 Sulusuban Lampung Tengah. Skripsi UNILA, Lampung, 22.
Razak, Nasruddin, 1984. Dienul Islam, Cet 7 Bandung: Al-Ma'arif
Syavitri, Silviana dan Agus Satmoko Adi. 2017. "Implementasi Program Pengentasan Buta Aksara di Kabupaten Bondowoso" Jurnal Kajian Moral dan Kewarganegaraan Volume 05 (hlm 640-655).
Yanggo, Huzaemah Tahido. 2016. "Al-Qur'an Sebagai Mukjizat Terbesar". Jurnal Waratzah. Volume 01 (hlm 1-26).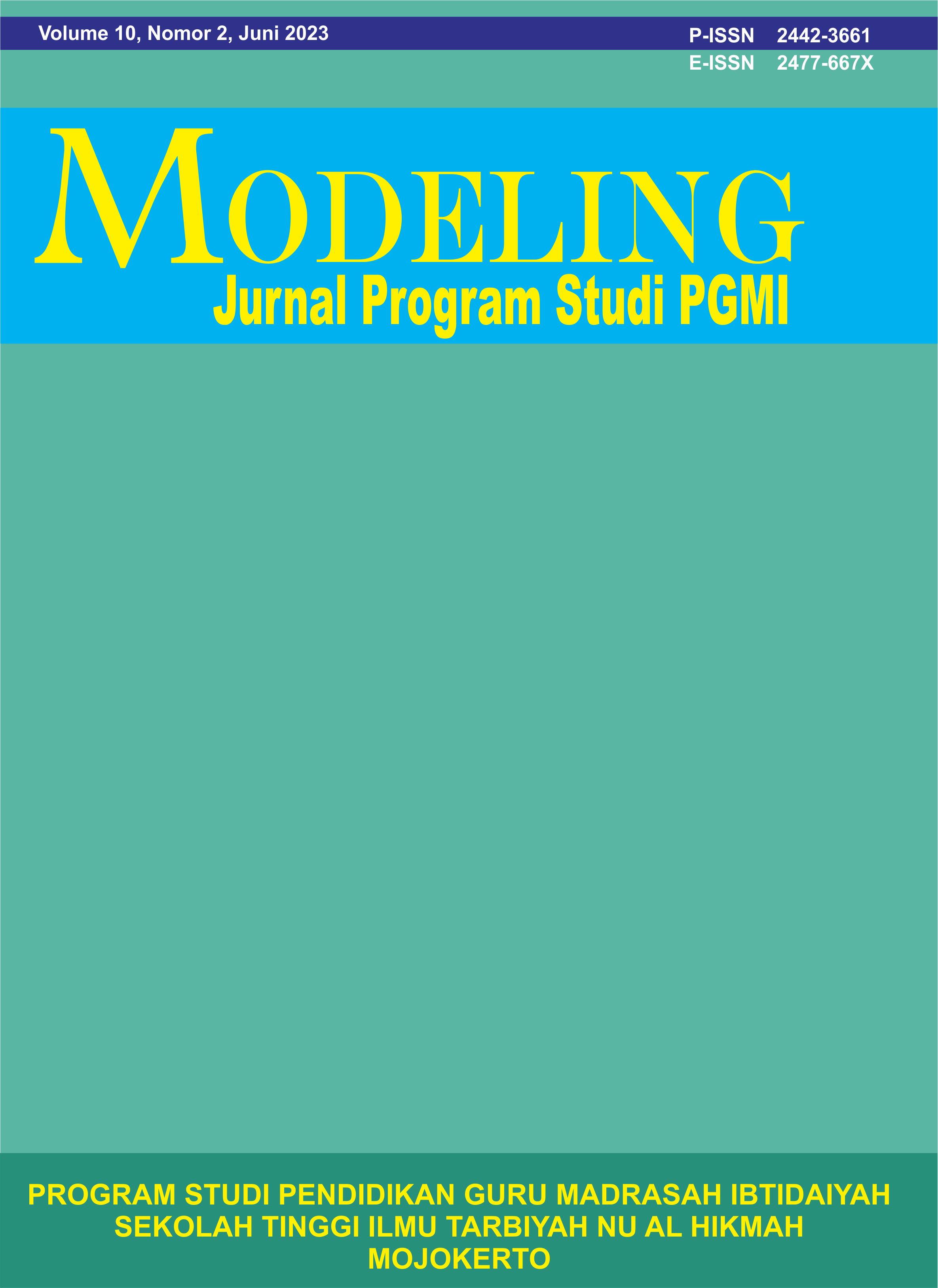 Bentuk Sitasi
Irawan, Deddy, Ahmad Fadhlan, Siti Annisa, Afiq Azizah, and Sakholid Nasution. MODELING: Jurnal Program Studi PGMI 10, no. 2 (June 30, 2023): 486-497. Accessed October 4, 2023. https://jurnal.stitnualhikmah.ac.id/index.php/modeling/article/view/1315.
This work is licensed under a Creative Commons Attribution 4.0 International License.