Peran Orang Tua dan Guru dalam Membentuk Pendidikan Berkarakter pada Anak Desa Bah Jambi
Haqqy Tamimah

Universitas Islam Negeri Sumatera Utara, Medan

Muhammad Rofi Halmi

Universitas Islam Negeri Sumatera Utara, Medan

Ratih Pebrianti

Universitas Islam Negeri Sumatera Utara, Medan

Rigi Septiandi

Universitas Islam Negeri Sumatera Utara, Medan

Yulita Cita Aggini

Universitas Islam Negeri Sumatera Utara, Medan
Kata kunci:
character education, parents, teachers
Abstrak
Parents play an important role in developing the potential of their children. Parents are the first nahdatul ulum (educators) in the family environment. Parents must be sensitive that a child has great potential for his development. Parents must instill good character values ​​in their children, such as honesty, democratic religiosity, fairness, trustworthiness, responsibility, humility, discipline, independence, and empathy. Parents educate character through good influence. Setting a good example and providing useful education to achieve this requires maximum efforts from parents to educate and instill useful characters for children. The responsibility of educating children does not only come from within the family, but also outside the family environment such as teachers. Teachers also have a great responsibility in providing character education to children, which is in accordance with the needs of their students. In this study, it is shown that the role of parents is very influential with the character of the child and the teacher is also very much needed by the child to meet a capable character.
Downloads
Download data is not yet available.
Referensi
Mustoip, Sufyan, dkk. 2018. Implementasi Pendidikan Karakter. Surabaya: CV. Jakad Publishing.
Raharjo. 2010. Pendidikan Karakter sebagai Upaya Menciptakan Akhlak Mulia. Jurnal Pendidikan dan Kebudayaan. Vol. 16. No. 3. Jakarta: Balitbang Kementerian Pend. Nasional.
Said, Hamid Hasan, dkk. 2010. Pengembangan Pendidikan Budaya dan Karakter Bangsa. Jakarta: Puskus Balitbang Kemendiknas.
Sukiyani, Fita, dkk. 2014. Pendidikan Karakter dalam Lingkungan Keluarga. Jurnal SOCIA. Vol. 11. No. 11. Yogyakarta.
Tsamrotan, Fina, dkk. 2020. Model Pendidikan Krakter Berbasis Keluarga Perspektif Islam di Tengah Pandemi Covid-19. Jurnal Pendidikan Islam. Vol. 08. No. 1. Kudus.
Wahyuni, Akhtim. 2021. Pendidikan Karakter. Sidoarjo: UMSIDA Press
Widianto, Edi. 2015. Peran Orang Tua dalam Meningkatkan Pendidikan Karakter Anak Usia Dini dalam Keluarga. Jurnal PG-PAUD Trunojoyo. Vol. 2. No. 1. Malang.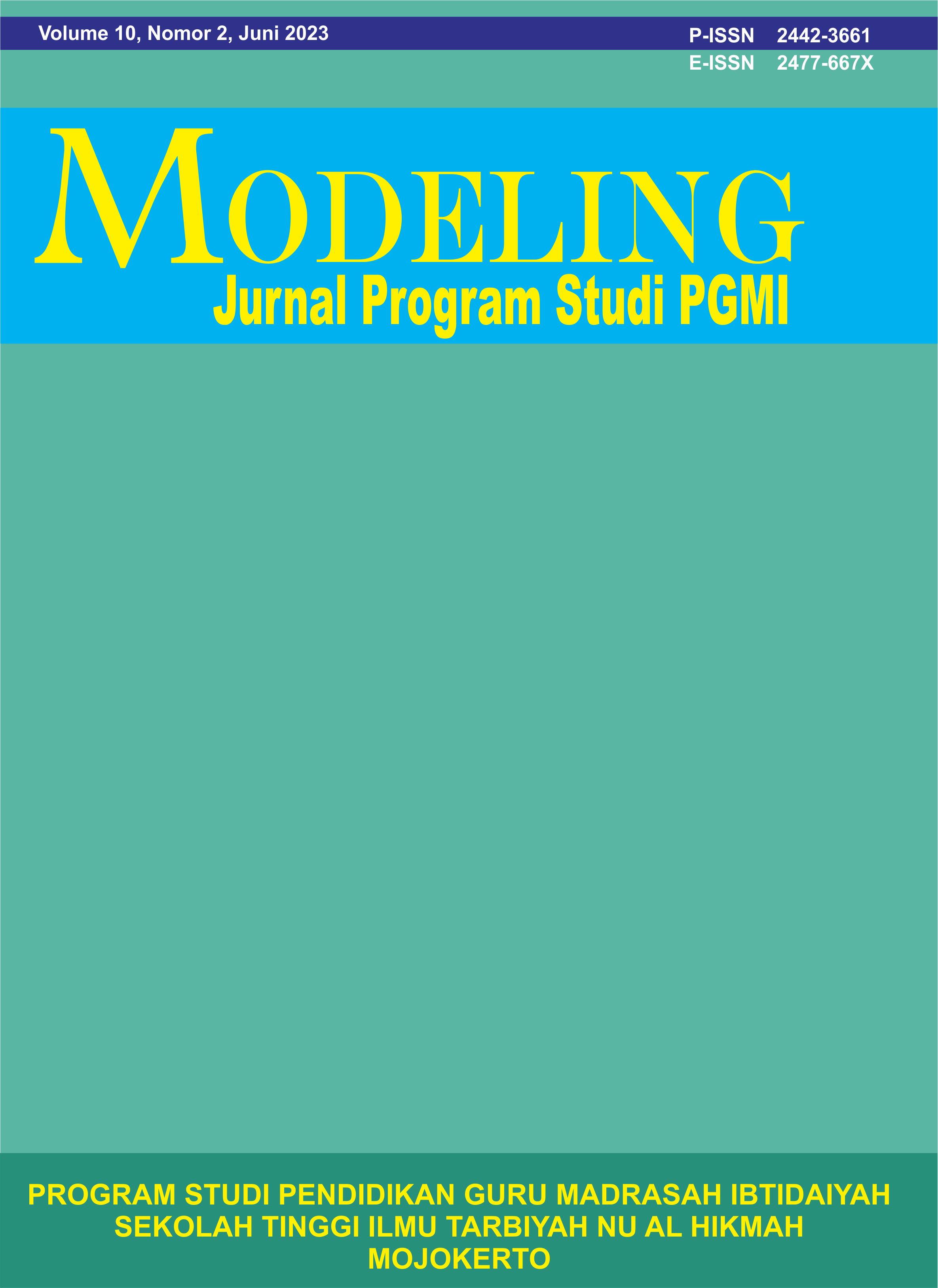 Bentuk Sitasi
Tamimah, Haqqy, Muhammad Halmi, Ratih Pebrianti, Rigi Septiandi, and Yulita Aggini. MODELING: Jurnal Program Studi PGMI 10, no. 2 (June 25, 2023): 50-59. Accessed October 4, 2023. https://jurnal.stitnualhikmah.ac.id/index.php/modeling/article/view/1735.
This work is licensed under a Creative Commons Attribution 4.0 International License.