Peran Mahasiswa KKN dalam Bidang Pendidikan di Desa Bahjoga Utara Utara
Abdul Halim Hasugian

Universitas Islam Negeri Sumatera Utara, Medan

Ajeng Dwi Pratiwi

Universitas Islam Negeri Sumatera Utara, Medan

Adam Damiri Manurung

Universitas Islam Negeri Sumatera Utara, Medan

Hanny Puput Eliyarista Saragih

Universitas Islam Negeri Sumatera Utara, Medan

Rahmawati Rahmawati

Universitas Islam Negeri Sumatera Utara, Medan
Kata kunci:
Community Service, KKN, Education
Abstrak
KKN (Real Work Lectures) activities are activities that must be followed by every student in lectures at least Strata One (S.1) at Higher Education Institutions, such as at the State Islamic University of North Sumatra, every 6th semester student and above must take part in KKN (Real Work Lectures) activities. ). Several students of the State Islamic University of North Sumatra carried out KKN (Real Work Lectures) in Bahjoga Utara village, Simalungun in July 2022. Students who carried out KKN (Real Work Lectures) in Bahjoga Utara village were 20 students and 6 students of which, all students/ I come from Simalungun. The students came from 4 faculties and 7 study programs. The method of carrying out the activities is carried out by surveying locations by KKN participants in several visits with the aim of seeing the condition of the village that will be inhabited for one month. Then the KKN participants socialized with the surrounding community to introduce themselves and provide information about the whereabouts of the participants with the aim of helping the surrounding community and helping find solutions to existing problems. Several educational institutions in Bahjoga Utara Village are the targets of the KKN student work program which is carried out routinely every day. All KKN students play a role in assisting the implementation of education in the village. Not only at school, KKN students also hold free lessons and teach the Koran for children in the village in order to maximize educational activities in the village. We hope that the Community Service Program that we carry out in the village can be a factor that helps the implementation of better education.
Downloads
Download data is not yet available.
Referensi
Ariyanti, Tatik. 2016. "Pentingnya Pendidikan Anak Usia Dini Bahi Tumbuh Kembang Anak (The Importance Of Childhood Educatiaon For Development)". Jurnal Dinamika Pendidikan Dasar Vol.8 No.1
Hariana, DKK. 2021. "Peranan Mahasiswa KKN dalam Melaksanakan Kegiatan Tambahan di Lokasi Pengabdian Desa Botuwombato". JAT 1(1)
Lestari, Sri DKK. 2021. "Implikasi Kuliah Kerja Nyata (KKN) dalam Mendidik Generasi Qur'ani di Masa Pandemi covid-19"
Riadi, Akhmad. 2016. "Pendidikan Karakter di Madrasah/Sekolah". Ittihad Jurnal Kopertais Wilayah XI Kalimantan Vol.14 No.26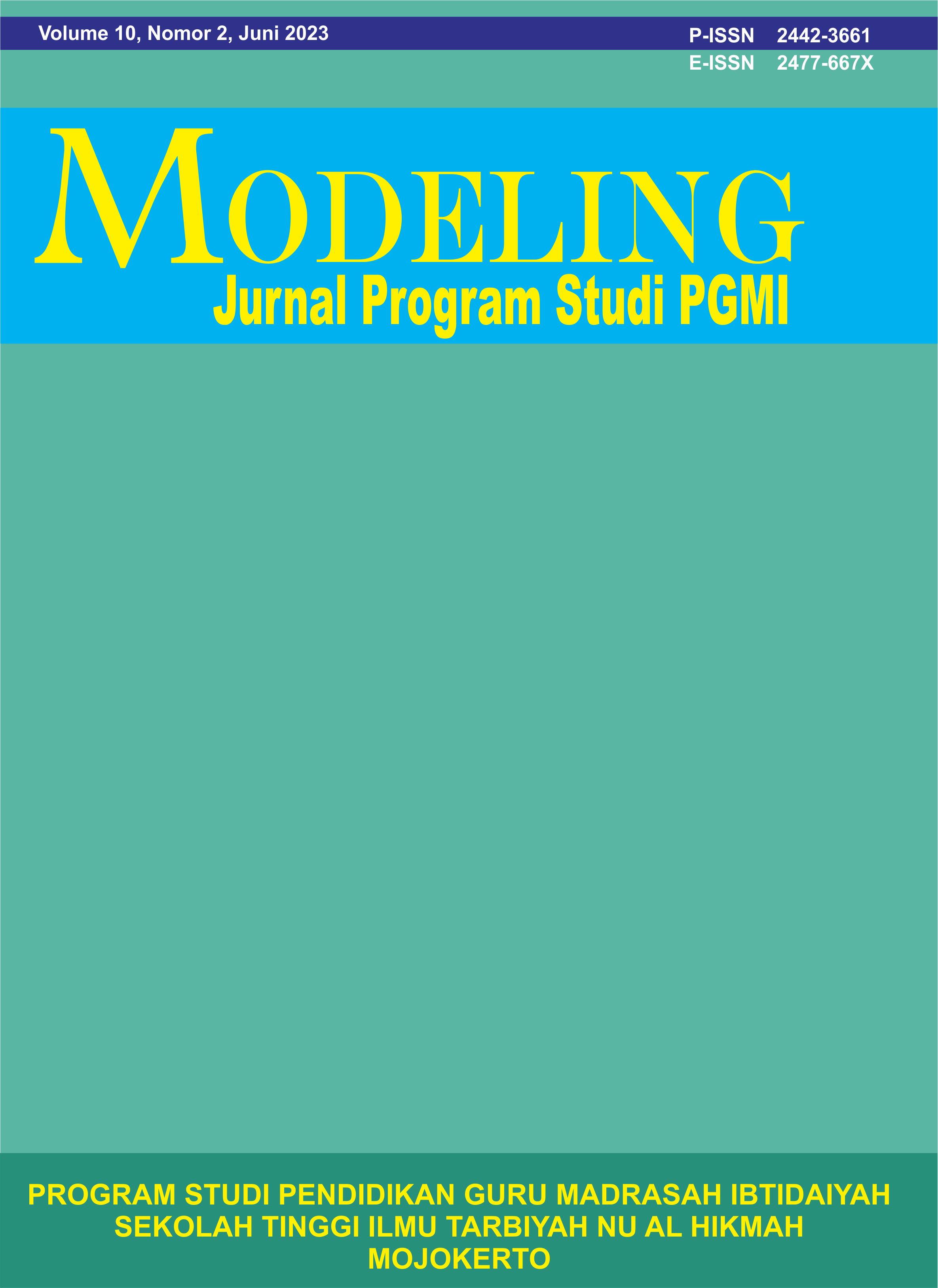 Bentuk Sitasi
Hasugian, Abdul, Ajeng Pratiwi, Adam Manurung, Hanny Eliyarista Saragih, and Rahmawati Rahmawati. MODELING: Jurnal Program Studi PGMI 10, no. 2 (June 25, 2023): 60-69. Accessed October 4, 2023. https://jurnal.stitnualhikmah.ac.id/index.php/modeling/article/view/1736.
This work is licensed under a Creative Commons Attribution 4.0 International License.