Hubungan Pengetahuan dan Sikap Ibu terhadap Pencegahan Stunting di Desa Sei Gelugur
Nurbaiti Nurbaiti

Universitas Islam Negeri Sumatera Utara, Medan

Rahmad Dani

Universitas Islam Negeri Sumatera Utara, Medan

Fahrozy Pradana Putra

Universitas Islam Negeri Sumatera Utara, Medan

Nuroida Afriani

Universitas Islam Negeri Sumatera Utara, Medan

Rs Rabiahtuddinil Adawiyah

Universitas Islam Negeri Sumatera Utara, Medan
Kata kunci:
Pengetahuan, Sikap, Stunting
Abstrak
The purpose of this study was to find out how the attitudes and knowledge of mothers related to stunting prevention in Sei Gelugur Village in 2022. In Sei Gelugur Village the correlation (relationship) method was used for research design, and mothers of children aged 6 years and over. below as a research subject. 45 people became the sample size in Sei Gelugur Village which accommodates 450 people. Results Based on the research, most (71.2%) of the research respondents' contributions to stunting prevention were included in the "less" group in terms of knowledge (55.6%). In Sei Gelugur Village in 2022, there is a relationship between the mother's contribution to stunting prevention and the mother's level of understanding about it.
Downloads
Download data is not yet available.
Referensi
Agus, S. Peran Kader Posyandu sebagai Agen Perubahan Perilaku Pada Ibu Hamil Dalam Upaya Menekan Angka Kematian Ibu dan Bayi. Artikel, Seminar Nasional Iptek Terapan Tahun 2013.
Dinkes Provinsi Bali. Laporan Kinerja Institusi Pemerintah DinasKesehatan Provinsi Bali Tahun 2018. Hal; 35-40
Kemenkes RI, Situasi Balita Pendek (stunting) di Indonesia, Buletin Jendela Data dan Informasi Kesehatan, tahun 2018.
Kemenkes RI. Laporan Kinerja Kesehatan Tahun 2018.
Kemenkes RI. Strategi Nasional Percepatan Pencegahan Stunting Tahun 2018. www.rakorstuntingTNP2K_stranas
Maryatun. Hubungan Pengetahuan Dengan Peran Keluarga Dengan Perilaku Seksual Pranikah Pada Anak Jalanan di Kota Surakarta, Tahun 2012. GASTER, Vol.9, No.1
Pusat Data Statistik, Profil Statistik Kesehatan Tahun 2017;ISSN: 2598;5655
Riskesdas. Grafik Pertumbuhan Stunting di Dunia. Tahun 2018
TnP2K, Panduan Gizi Untuk Balita, T. Ed.Jakarta: Bumi Medika, 2018.
World Health Organization (WHO), data stunting dunia tahun 2018. www.who.datastunting.go.com
Youstina DR. Peran Orang Tua Dalam Keberhasilan Toilet Training Pada Anak Balita di Kota Purwakarta, Medali Jurnal Volume 2 Edisi 1.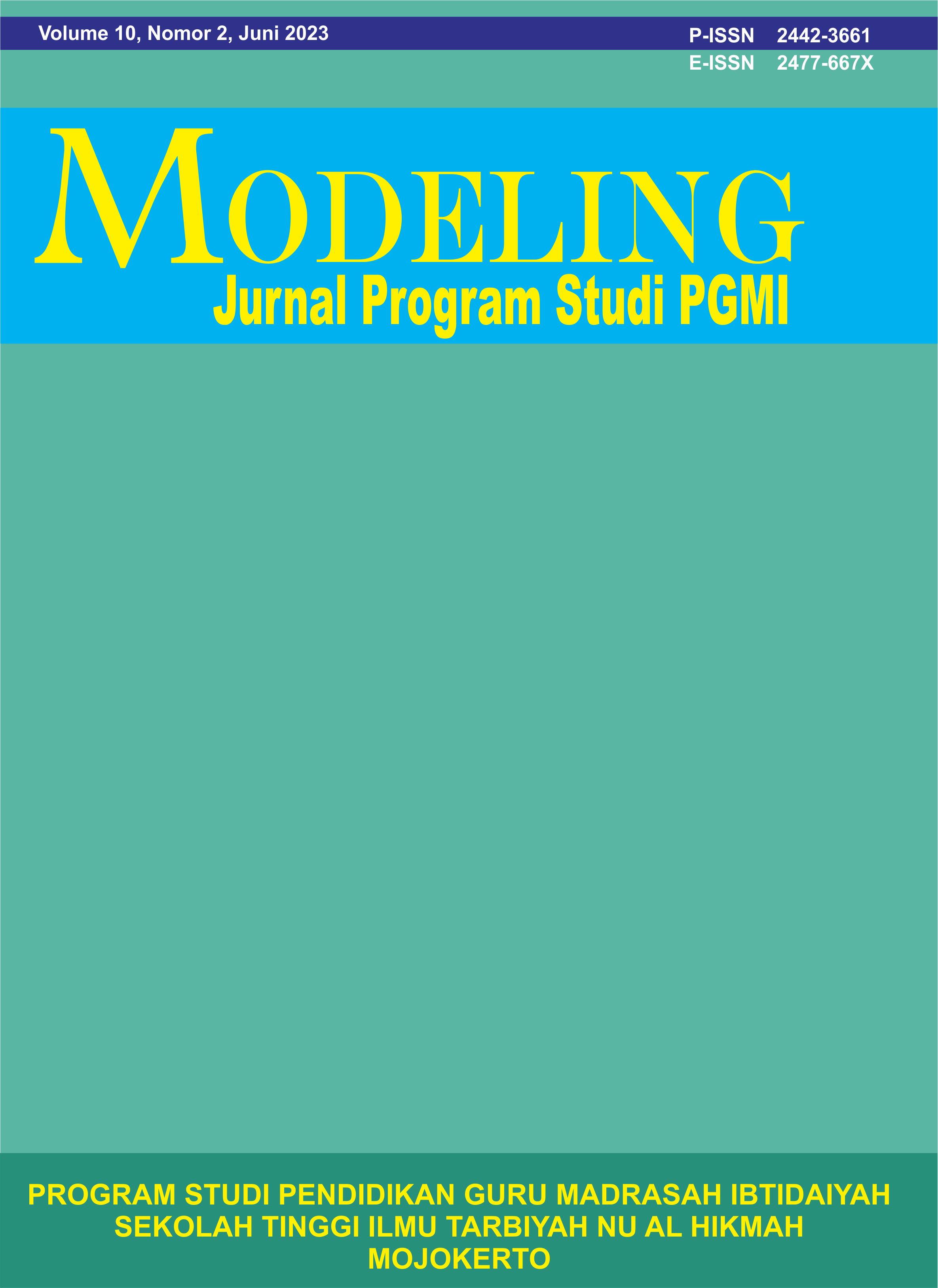 Bentuk Sitasi
Nurbaiti, Nurbaiti, Rahmad Dani, Fahrozy Putra, Nuroida Afriani, and Rs Adawiyah. MODELING: Jurnal Program Studi PGMI 10, no. 2 (1): 94-101. Accessed October 4, 2023. https://jurnal.stitnualhikmah.ac.id/index.php/modeling/article/view/1291.
This work is licensed under a Creative Commons Attribution 4.0 International License.