Konsep dan Implementasi Kurikulum Merdeka pada Ranah Rumpun Mata Pelajaran Pendidikan Islam di Sekolah Dasar Islam Terpadu Al Hadi Mojolaban Sukoharjo
Ria Putranti Arwitaningsih

Universitas Islam Negeri Raden Mas Said Surakarta

Befika Fitriya Dewi

Universitas Islam Negeri Raden Mas Said Surakarta

Eggi Mega Rahmawati

Universitas Islam Negeri Raden Mas Said Surakarta

Khuriyah Khuriyah

Universitas Islam Negeri Raden Mas Said Surakarta
Kata kunci:
implementation, concept, independent curriculum, integrated Islam
Abstrak
Currently, education faces various challenges due to significant changing times. The use of technology has influenced education widely. Where Education has an important role in answering and preparing the current and future generations. The Independent Curriculum is here as a solution to this problem, namely to give the right to learn independently. The purpose of this study is to describe the concept and implementation of the independent curriculum in the Islamic religion subject cluster in learning at the Integrated Islamic Elementary School (SDIT) Al Hadi Mojolaban Sukoharjo. The research method is a qualitative approach with a descriptive research type. The research subjects were school principals and a team of teachers from the Islamic Religious Education family who developed the curriculum. Data collection is done by observation, interviews, and documentation. The data analysis technique was carried out using descriptive analysis, namely data presentation and conclusion. While testing the validity of the data is done with the Validity Test. The results of the research show that the Merdeka Curriculum was born as a curriculum capable of developing innovation in creating a fun learning atmosphere and in line with national education goals. Implementation. Merdeka Curriculum at the SD/MI level to strengthen the Pancasila Student Profile. The concept of the Independent Curriculum encourages students to be active, creative, and think independently in developing their knowledge and skills. The implementation of the independent curriculum in Integrated Islamic Elementary Schools which is characterized by the character of Islamic learning uses the Independent Sharing Category, namely the school implements the Independent Curriculum at the first and fourth grade levels of SD/MI and develops its own teaching tools, especially in Islamic subject groups.
Downloads
Download data is not yet available.
Referensi
Amrullah. 2015. Sekolah Islam Terpadu: Sebuah Tinjauan Kritis. Tadrib, Vo.1, No.5.
Julaeha, S., Hadiana, E., & Zaqiah, Q. Y. 2021. Manajemen Inovasi Kurikulum: Karakteristikdan Prosedur Pengembangan Beberapa Inovasi Kurikulum. MUNTAZAM: Jurnal Manajemen Pendidikan Islam, 2 (01), 1-26.
Keputusan Mendikbudristek RI No.262/M/2022 tentang Perubahan atas Keputusan Mendikbud RI No.56/M/2022 tentang Pedoman Penerapan Kurikulum dalam Rangka Pemulihan Pembelajaran.
Direktorat PAUD, Dikdas dan Dikmen (2021). "Buku saku tanya jawab Kurikulum Merdeka". repositori.kemdikbud.go.id.
Sanjaya, Wina. 2013. Strategi Pembelajaran Berorientasi Standar Proses. Pendidikan. Jakarta: Kencana.
Kemendikbudristek (2022). "Implementasi Kurikulum Merdeka"
Kemendikbudristek (2022). "Kerangka Kurikulum Merdeka"
Himpunan Lengkap Undang Undang Sistem Pendidikan Nasional, Yogyakarta; Saufa, 2014.
Hamalik, Oemar, Dasar-Dasar Pengembangan Kurikulum, Bandung: PT Remaja Rosda Karya, 2009.
Hidayat, Sholeh, Pengembangan Kurikulum Baru, Bandung: PT. Remaja Rosda Karya, 2013.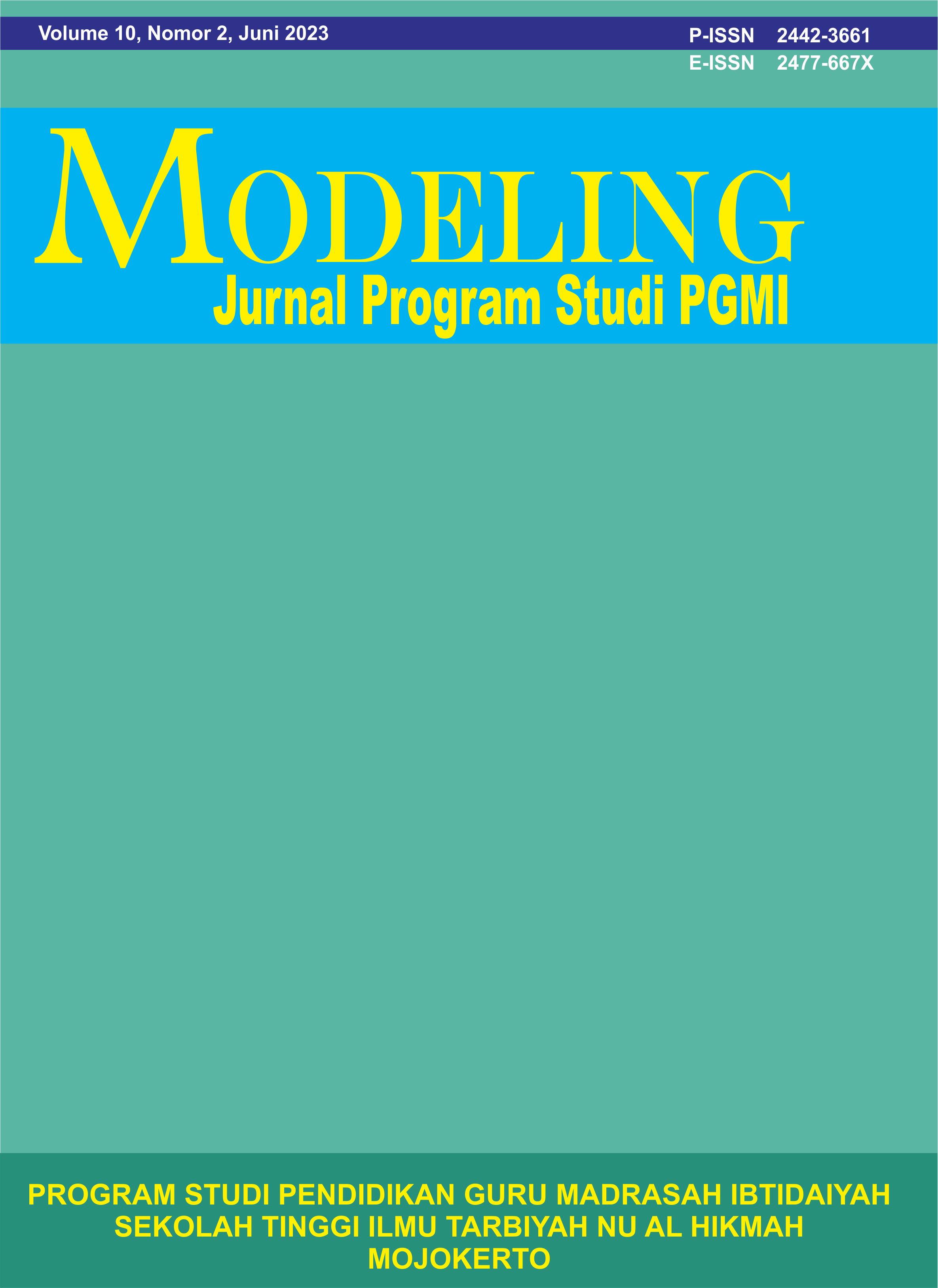 Bentuk Sitasi
Arwitaningsih, Ria, Befika Dewi, Eggi Rahmawati, and Khuriyah Khuriyah. MODELING: Jurnal Program Studi PGMI 10, no. 2 (June 26, 2023): 450-468. Accessed October 4, 2023. https://jurnal.stitnualhikmah.ac.id/index.php/modeling/article/view/1752.
This work is licensed under a Creative Commons Attribution 4.0 International License.